A motorcycle history of a Brooklyn Boy




---
In the 1950's, Brooklyn was the greatest place in the world to be a little boy. We had three Baseball teams, the Yankees, the Giants, and our very own team, the Brooklyn Dodgers. Every mother was "your" mother and you didn't dare to do anything (very) wrong because when somebody said "I'm gonna tell your mother", there was a good chance that they knew who you were, and they knew your mother.
Most families didn't have a car (you didn't need one), we didn't have a phone (lots of families didn't), and like most of my friends, we didn't have a television, which didn't matter, there wasn't much to watch anyway (except the Honeymooners, still the funniest TV show EVER). There weren't many motorcycles in those days in Brooklyn, and except for the occasional police officer, the rare motorcyclist was a sight to behold.
However, things started to change when in 1954 a movie captured the imagination of every kid in the country, of course that was the now classic "The Wild One", and every boy wanted to be Marlon Brando.
That movie lived on in the minds of lots of little boys. I was eight years old when the movie came out, and there was NO WAY my mother would take me to go see it, and in those days they didn't show many movies on TV; besides, we didn't have a TV anyway. But ten years later I had a job and a little (very little) money and decided I wanted a motorcycle, I knew NOTHING about motorcycles. I visited a large dealer in Manhattan to see what's available and what I could afford.
The Japanese were, by then, starting to import motorcycles, but they were small, mostly 50 or 90 cc's and I knew I didn't want one of those, "buzz bombs".
What they did have on the floor, that I could afford, was an, almost new, 1963 JAWA 350, two stroke, the price was $350.00 and I could scrape that much together to buy my first motorcycle.
That JAWA was a pretty nice motorcycle, and they had great respect in Europe as reliable transportation, but it wasn't a Triumph, BSA or a Norton and I proceeded to turn it into a piece of garbage (that poor bike).
Not long after destroying the JAWA, I found an, already trashed, BSA A-10 and bought it. I knew it was trashed, but at least it was a big British twin and it did run (British twins, in those days, ruled the road).
---
---
In those days, "choppers" were just starting to become popular, and the lunatic that owned this BSA before me, simply took a hack saw to anything on the bike, he thought wasn't essential.



---
Finally, a real job, some money, and a girlfriend who lent me some more money, enough to put a down payment on a new BMW, a 1968 R69S. Any girl who'll lend you money for a motorcycle needs to be captured and we got married in August of 68. Thirty seven years later I have the chick but regrettably (what the hell was I thinking) I sold the R69S; I've done stupid things in my life, but selling THAT bike, tops the list.
We were young and in love. We took off on our BMW and headed to Vermont.

---
We DID think ahead and took rain suits (note the Converse high tops), damn, did we hit rain.



---
My pride, and my lovely bride.



---
On mount Mansfield.




---
In 1977 I had another BMW, an R60. I bought it used, but it was all there, and easilly restorable. Actually there was nothing to restore, it was in pretty good condition, but it did need some repairs which necessitated many trips to the dealer. It just happened that the dealer also sold Triumphs, and on one of my trips to the parts department, there sitting on the showroom floor (leaking oil) was the prettiest Triumph I had ever seen, a one of a thousand, Triumph Silver Jubilee special.
Back when I bought my JAWA, it was Triumphs that were the kings of the road and I lusted for a Bonneville, but of course I couldn't afford one then. But by the following week I finally had a Bonneville. Unfortunately I couldn't afford to keep two motorcycles then, and I sold another BMW.
Damn it's pretty. I still get chills when I kick start it and hear that classic British vertical twin throaty roar.




---
In 2002 Queen Elizabeth was then reigning England for 50 years and hence Golden Jubilee ceremonies were held throughout England and Triumph produced a Golden Jubilee Bonneville. Being the original owner of a Silver Jubilee, how could I NOT get one and have a matching pair.
I still have a great wife who supported my new acquisition.



---
2003 was our 35th wedding anniversary and we took a trip to England, so naturally I had to visit all the things a devout brit biker wants to see, motorcycle museums and the legendary Ace cafe.
In this photo I met up with an "internet" friend and proud owner of a Brough superior, the other Brough belongs to a museum.





---
Finally another BMW, this one stays (unless I get a new one). I still had the hunger for a BMW and the idea of ABS intrigued me as did a road bike that can cruise at high speeds. I searched and found this, at a price I could afford.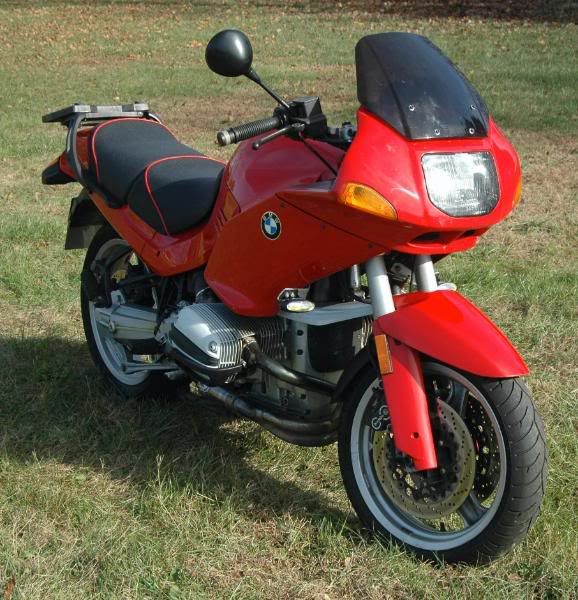 1994 R1100RS with heated grips and ABS (I love this bike)




---
---
February 2006.
A warm winter day, time to go for a ride.
---
My nephew, he's got more guts than his uncle.




---
I got to visit the Ace Cafe again in 2006
April 2006. A friend and I went to Stafford England for a motorcycle swap meet (AutoJumble) and took a side trip to the Ace cafe. I had been there before, but this time I got a special tour, courtesy of the owner, Mark Wilsmore. Mark is a retired Met police officer and there are frequently motorcycle officers of the met (London metropolitan Police) taking their breaks there. They also teach motorcycle safety courses there and their presence helps keep things "friendly".
That's me on the far right and Mark with his arm around me. We had a great time.




---
We also visited the British National Motorcycle Museum, in Birmingham
---
Some really cool bikes there


I'm planning for the Stafford AutoJumble to be my annual pilgrimage

---
---
June 1, 2006

The new pride of the fleet
I've been lusting after this beauty for several years and I finally convinced the owner to sell it to me. He and his wife agreed to sell, mainly because it will be only five miles away, and they will retain visiting rights.
This bike started life as a 1967 R60/2 (600cc) and somewhere along the way got a newer motor a 750/5 (750cc). Not a bad thing, more horsepower, 12 volt electrical system, dual spark plugs, kick and electric start.
An, all original, matching numbers rig would have more collectible value, but this was at a reasonable (not cheap) price and, came from someone I know very well, and only 5 miles away; how could I go wrong.
The sidecar is a Hollandia. Hollandia (I'm told) took over when Steib stopped producing sidecars.
In 1968, when I had my R69S, I remember going into the Butler & Smith offices in Manhattan and there, on the floor, was a new R69S with a Hollandia side car; I was hooked, and I've wanted one ever since. Then, a NEW BMW R69S (top of the line) was about $1600.00 and BMW listed the Hollandia sidecar in their catalogue at $750.00

Was it worth the thirty eight year wait?, I think so, albeit I wish I had bought a bunch of them then.
The bags are Craven (British made), In their day they were the top of the line in panniers and about twice the price of anything comparable.

---

---

Well the sidecar rig is wonderful but I still wanted an old /2 (pre 1970) BMW and the workhorse of the line was the R60.
I really wanted an R69S, but they are increasingly harder to find and getting very expensive, so an R60 will have to do. After some searching, for one that I could afford, I found this one, it runs well and has some battle scars but nothing too severe. It will be a nice project to get running perfectly, as for the cosmetics, it's not too bad and I don't mind it showing its age.
Wouldn't you know it. After buying the R60 what appears in the paper? an R69S, again, not perfect but all there, and running.
It came with a Hollandia side (that's what I already have), so my friend took the sidecar and I kept the bike.
So now I have three vintage BMW's, no money and no more room; I guess I'm done now.



---

---

Sunday, February 3, 2008
MY NEW GIRLFRIEND
A friends 96 year old grandmother wanted to go for a ride, so who am I to deny a lovely lady.

---

---

---

---

---

---

What a sweet old lady, I wanted to keep her. She's so full of life and adventure.
What she REALLY wants to do is go sky-diving, but the cowardly bastards won't let her, THEY think she's too old; obviously, they don't know her.

---


96 years old and still looking for thrills, cheap or otherwise.

---

---

---

---

---

---

---
The Family


l to r
daughter Jennifer . Dario (Jennifers boy friend) . . daughter Adrienne . Michael (Adriennes husband) . . Wife Mary
seated = ME


---

---

---
ALWAYS
ALWAYS
ALWAYS WEAR A HELMET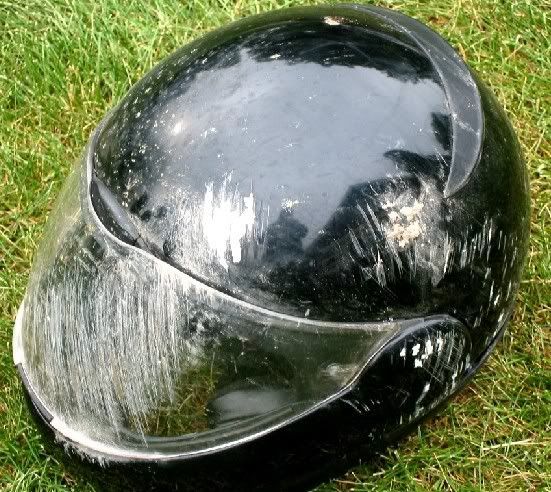 ---
questions, comments, click here to email
---
---
---
---
---
---
---
---
---
---
---
---